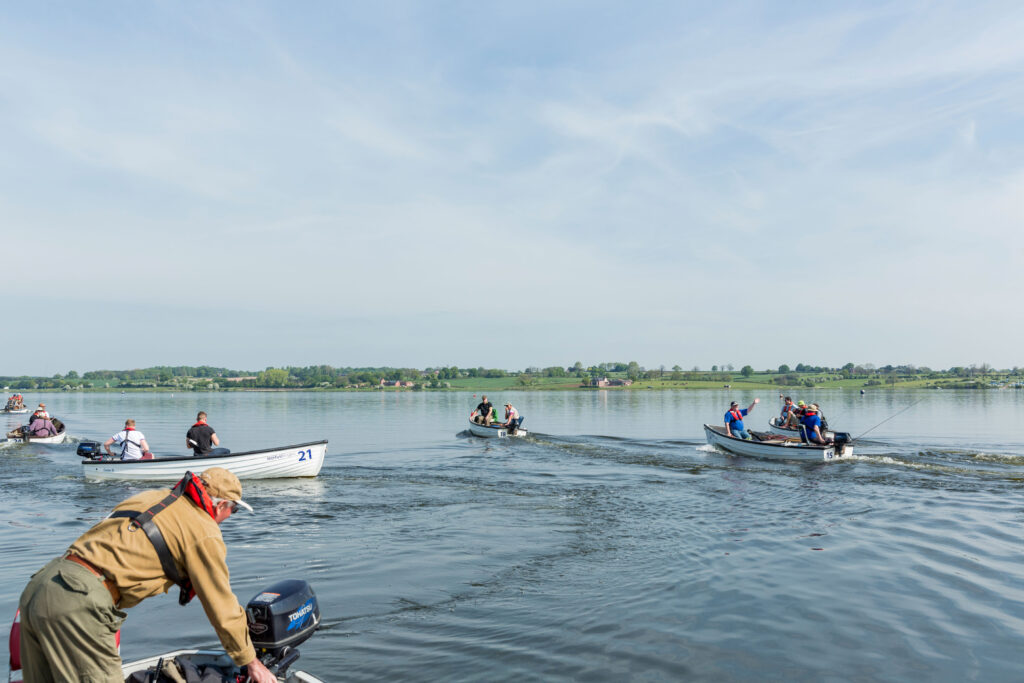 Angling Report
The latest news from the boats and banks
Report for week ending: 5th November, 2023
Rod average : 3.15
Best fish : 5lb 8ozs rainbow trout
Caught by : Mr. David Hemsley
From : South Lake – bank
Fly used : Viva
Best Dry Flies : n/a
Best Wet Flies/Nymphs : Diawl Bach ; red buzzer
Best Lures : black minkie ; dark brown mini-snake ; Appetiser; Viva ; Montana
Best Areas : Ten Acre Bay ; Rainbow Corner (Mon, Tues, Fri only for bank angling) ; drifts along the Dam ; Mickledale Bay ; Watery Lane
Summary Report
The last days of the Season …
Once again the sport during the past week has been dominated by the weather with another storm lashing the South Coast as we suffered yet more persistent rainfall. The ground, already waterlogged in most places, is no longer able to hold water and widespread flooding has resulted across the Midlands. We have been no exception and the Reservoir is now at maximum capacity whilst the tracks remain inaccessible in some parts and very muddy in others.
Therefore, the best access for these last days of the Season can be found from a boat which will give maximum coverage without the difficulties facing vehicles. For those anglers who prefer the bank we would advise against wading as fish are close in to the margins and too much disturbance within those margins will drive fish further out – fry patterns are working very well with black patterns producing better results than light ones. Black Viva, Humongous, Minkie and mini-snakes have been popular choices fished at between 2 and 3 feet deep with many fish following in and taking the fly on the lift. Several large brown trout have been seen doing exactly this but are easily spooked when they realise an angler is so close by!
A superb rainbow trout caught from the bank this week by Paul Walker – Paul's size 10 boot gives a sense of scale!
Photograph courtesy of Paul Walker
A reminder this week that we close to ALL Syndicate/club anglers, 4 hour/day ticket anglers and guests on Wednesday 15th November which means there is just one week left for those anglers to enjoy the delights of Blithfield this year. Only Permit holders will be able to fish until 30th November. We look forward to seeing you soon.
Another one in the net for Paul Walker! Photograph courtesy of Paul Walker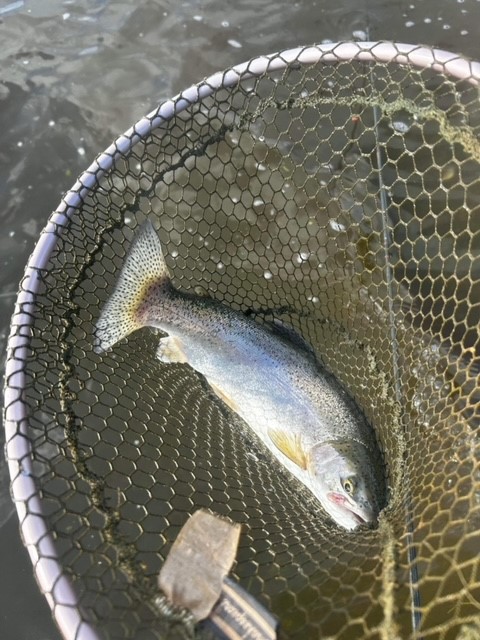 The rod average is 3.15